2013 Members News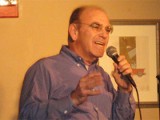 All of us in the Inner Circle extend our warmest wishes for a complete and speedy recovery to
our dinner chairman, Mark Lieberman.  Mark recently underwent coronary bypass surgery.  He
promises to be back soon for rehearsals for the 2013 show, "Last Gulp," as well as for his many
duties with Hilton Hotel accommodations and dinner seatings.  Get well, Mark!
Inner Circle "Intern" Finds a Show-Biz Family
By Amanda Hemenway
"We once did a skit for the Inner Circle about that, about how Bloomberg adds "S"es to the end of all his words," Melissa Russo told me one day while we worked on one of her stories at WNBC. Not only did this make it hard to sit through the mayor's press conferences without hearing all those added "S"es, it also peaked my interest in this magical thing called the Inner Circle. There essentially was a New York version of the White House Correspondent's Dinner? With singing and dancing to boot? Sign me up.
I couldn't wait to see what this famed dress rehearsal was like and to hob-nob with New York's political and media elite at the Saturday night performance. As it turned out though, I was totally wrong about what the best part of the Inner Circle would be.
Yes, the dress rehearsal was a one of a kind experience (I thought "picnic dinner" meant some sandwiches from the deli down the block, which people had, in addition to their tables ladened with hors d'oeuvres, bottles of wine and dessert). And yes, seeing Mayor Bloomberg and the New York Congressional Delegation at a black tie event is a pretty cool way to spend a Saturday night. But at the end of the whole experience, those things aren't what I remember most fondly about the Inner Circle.
Instead, what made my Inner Circle experience so wonderful was the way I was welcomed into the group. I'll admit that I was more than a little intimidated by the prospect of helping out with the show. I knew only a handful of members; everyone else I only knew because I had read their columns, heard their voices on the radio or seen them on TV. As a self -professed news nerd and political junkie, as someone just starting out in journalism, these were my celebrities, my superheroes. Yet when I showed I up for my first writing committee meeting, I was welcomed with open arms and given a real role in the process. I was encouraged to throw out ideas, to suggest song and costume choices. When protest signs needed to be made I was handed some poster board and a marker and set lose.
The Inner Circle show certainly is a magical thing, but not for the reasons I had initially thought. There is a certain kind of camaraderie within the Inner Circle. Its members aren't exactly a group of people known for having a ton of spare time on their hands. They work demanding, unpredictable jobs with long and often unusual hours. Yet what little extra time they have, they devote to this thing called the Inner Circle. They come to rehearsals while on a break from covering a story, straight from live shots and with pieces still on deadline. And as clichéd as it sounds, they do it all for the good of the show.
This camaraderie is evident in the hours of writing committee, costume design and rehearsals; it's evident throughout the show itself, perhaps most obviously in the closing number. But for me, on a very personal level, it was evident when minutes before the start of the show members took the time to ask how the first day at my new job had gone, which fortuitously fell on the same day as the show. It was made clear from the very beginning that even a rookie like me not only could but should participate fully in the production of the show; that not only did such a family exist, but that I too was a part of it. Call me naïve, but the Inner Circle may just be the last place left in journalism where network rivalries and ratings don't matter.
Amanda Hemenway was our unofficial intern, researcher, helper and all-around go-getter for the 2012 show season. At the same time, she scored her first paid job in journalism at MSNBC, where she is a news producer.
God Save the Queen - and Juliet Papa - from the Pitfalls of Facebook
By Juliet Papa
It was a dreary Saturday morning -  very London-type weather in New York. So it was more than fitting to tune in to the ceremonies for Queen Elizabeth's Diamond Jubilee celebration. I've always been a fan of the royal carriages and regal processions, but this event had historic significance: Elizabeth was only the second sovereign in the history of the British empire to celebrate such a milestone. I checked into BBC America and  watched  the live coverage of the fantastic flotilla along the Thames; a thousand boats and craft, from gorgeous gondolas to the dinghies that saved servicemen at Dunkirk. They passed reknowned British landmarks: Big Ben, the Tower of London, and sailed under the Tower Bridge.  The Queen in white,  Philip, Charles and his sons in uniform, and Princess Kate decked out  in red, watched from a crimson-and-gold reviewing stand. I was so fascinated I decided to capture these historic moments; for fun,I sent a few photos to my Facebook page.
Talk about the power of suggestion!  The comments came quickly, and as they did, I realized that my FB friends thought I was there. "Fabulous you got to go!"  "Great assignment!" "Tell Harry he owes me ten bucks!" At first I felt bad, thinking they had been misled– but as I read on, I realized that many people knew I had been sent to Rome earlier this year to cover New York Cardinal Timothy Dolan's elevation – and  that I've had other out- of town assignments in years past. So this was perhaps a natural conclusion. It was a development I never thought about – but now wonder about when it comes to Facebook's capabilities. I hate to dispel the image of a globetrotting reporter but in the interest of full disclosure: I was on my couch with a cup  of coffee, taking photos with my Blackberry! God Save the Queen – and Lord help FB!
Siff, Murphy Win Emmys
Hot off their great performances in 2012′s "Preoccupied," Inner Circle members Andrew Siff and Mary Murphy are winners of this year's Emmy awards.
WNBC's Siff won two statues. The first in the General Assignment category for "Flooding in Wallington," Aug. 31, 2011.  Andrew Siff, Reporter, Michael DelGiudice, Photographer.
The second in the Human Interest: News category for "The Gift of Healing," Dec. 23, 2010. (WNBC-TV).  Andrew Siff, Reporter; Michael DelGiudice, Photographer;
WPIX's Mary Murphy won the Emmy for Health/Science: News for "Prince of Prosthetics," June 18, 2011. Mary Murphy, Producer/Reporter; Ian Handler, Photographer/Producer; Jason
Johnson, Producer/Editor.
Siff played Mayor Mike in "Preoccupied," and Murphy played Hillary Clinton.
Congratulations to both!
Letter from the Show Director
Dear IC members,
I am swimming in euphoria.
My major goal is for a "tight" show, one that moves along, with seamless pacing, an accomplishment that keeps the audience focused throughout. 
My goal was accomplished, thanks to every one of you who paid close attention to entrances, exits, cue pick-ups and staging of skits as well as developing characterizations for your roles. 
But the best pacing in the world would mean nothing without the incredible talent in our midst. The writing, led by Larry and Dave is the foundation of our success. Several members write wonderful lyrics, but what would we do without the prolific Richie and Jim. And, of course, our pros, Kathy, Tony, Edie and Steve are second to none.  
Had the teleprompter failed completely, I know that with some off-stage prompting, some ad-libbing,  programs in hand for those who felt insecure, we would have pulled it off. You may not think so, but I know so!
We do this show in part because the "hams" in us love to get up on that stage, because we love "news," especially the politics end, we are doing a "mitzvah" (good deed) by performing for worthy smaller charities, and, perhaps most important, we look forward to a special camaraderie among colleagues who are friends. We take care of one another!
Melissa, you were an incredible president. You broke new ground with your spectacular videos and your "Gaga" will long be remembered.
And, now, Glenn rises to the challenge. Oops, that was not meant to be a pun, "Mr. Weiner." Only thing is, I think your elevated status means you can't go naked anymore. LOL.
That LOL stands for "laugh out loud" and "love you all."
Shelly
Here's Why We Work So Hard on Each Show
A main reason why we all put in so much time, work and sacrifice to get the performances, jokes, songs, music, choreography and dialogue just right is those who benefit from our charitable efforts.  This is the current list of members' charities.
Achilles International
All Hallows High School
American Vitiligo Research Foundation
Ballet Hispanico
Big Apple Greeter
Calvary Fund
Camp Oasis for Crohn's & Colitis Kids
Cardinal Hayes High School
Church of the Presentation Youth Ministry Mexico Mission
Citizens Union Foundation - Gotham Gazette
Coalition for the Homeless
Committee to Protect Journalists
Community Service Society of New York
Crown Heights Youth Collective
Friends of NYC Lab School
Goddard-Riverside Community Center
Hedgebrook
Holy Apostles Soup Kitchen
Hour Children
Incarnation Children's Center
Italian American Museum
K.I.D.S. (Kids in Distressed Situations Inc.)
Lawrence F Hickey Center for Child Development
Lower East Side Ecology Center
Medford Public Library
Memorial Sloan Kettering Cancer Center
Midtown West School
Museum of the City of New York
Natalie's Way Foundation
National MPS Society
New Alternatives for Children
New York Press Club Foundation
NY Firefighters Burn Center Foundation
Publicolor
Regis High School
Robert Mindlin Journalism Foundation Inc
Sacred Heart Food for the Hungry Program
Safe Horizon
Salvation Army Manhattan Citadel
Sarcoma Foundation of America
Search and Care
Songcatchers, Inc
Songs of Love Foundation
The City Reliquary
Warwick Community Ambulance
YM-YWHA of Washington Heights & Inwood
Magee Hickey Finishes Half Marathon
Watch the video report by Magee Hickey of her personal quest to complete the 13.3-mile challenge. And learn who she, and thousands of others, helped in the process.
Welcome Back, Carter
Despite Being Hospitalized, Gerald McKelvey Comes Through with Three Preferred Tables
Give this guy a big part! Our own Gerald McKelvey brought in three top-dollar tables for "Preoccupied."  Jerry's feat is made even more outstanding by the fact that he's recovering from serious back injuries he suffered during Hurrican Irene last September.
Jerry was injured while clearing debris at his upstate New York home right after the storm.
He's recuperating at:
Terence Cardinal Cooke Health Care Center
1249 Fifth Avenue
4th Floor Hospital - Room #427
New York, NY 10029
Let's give him a call.
Backstage Blog:
Here's another fun entry in our member blog series. This one is from 2012 Vice President Glenn Schuck, who recalls his initiation into the Inner Circle. But that entry rite was just the start of a series of performances by Glenn that each rivaled the other for title of "too much info."
A Hair-Shaving Entrance
When Inner Circle friend and now Director Shelly Strickler asked me to join Inner Circle in the fall of 1999, I remember one thing. I wanted to make an immediate impression. So on the day I entered the room once know as the " COW" at City Hall (now Mayor Bloomberg's bullpen) I went ahead with my plan. I shaved my head. Simple as that. As about 40 members of the Inner Circle watched, I had a co-worker of mine Steve Sandberg take out an electric razor and shave my waving hair right down to the scalp. I remember Channel 4′s Melissa Russo yelling " IS he REALLY shaving his head? " Apparently the group had thought I had put on a fake hairpiece and this was all a trick.
 Yes I looked silly for the next six months. Yes I still get ribbed about it to this day.  But I immediately felt connection with an amazing group of journalists who perform each year for charity. I have gone on to equally "thrilling" roles in the show as a diaper wearing "Baby" councilman and my ultimate career dream, to be standing in front of 1500 people in my underwear as the " Naked Cowboy." The Inner Circle. What fun.
IC Secretary, aka "Blues Brother," Henry Goldman
Henry Goldman has covered New York City and state government, politics, the local economy and municipal finance for Bloomberg since 2000, after having worked for a year at its Bloomberg Markets magazine.  Based in NYC in 1996 to 1999 as a Philadelphia Inquirer national correspondent, Hank first entered City Hall at the end of Mayor Giuliani's first term. Early years with the Record of Hackensack, N.J., included a six-month investigation of abuse and neglect at a mentally-handicapped institute that forced an emergency state take-over and sent the director and two deputies to prison.
Besides his solid Journo creds, Henry is also a mean blues harpist, blowing a solo nearly every year since joining the Inner Circle. Which hot cookie will he play this year?
As a law student he worked in Governor Brendan Byrne's legal office — then wound up putting him on TV with former Govs.William Cahill and Richard Hughes, as a producer for Channel 13. As he does in every story he writes about the mayor, he would like to remind the reader that Mayor Bloomberg is the founder and majority owner of Bloomberg News parent Bloomberg LP. 
Backstage Blog
IC Show Director Shelly Strickler still gets red-faced over this hilarious memory of a center stage "oops" moment. 
In the 1993 Inner Circle show, the year I was president, I played Hillary Clinton just a few months following Bill Clinton's first inauguration. I wore a replica of the staid suit she had worn for the occasion. The suit was a tear-away, designed so that at one point in the number I could rip open the velco to reveal a leather dominatrix outfit underneath.
Somehow, the short skirt rode up, and when I ripped open the dress, the skirt was hiked up to my waist. I didn't realize it at first and was confused when I heard a roar from the audience. Musical Director Kathy Beaver was so stunned that the whip she had expertly tossed to me during rehearsals flew past me. I recovered, yanked down the skirt, picked up the whip and tried to proceed as though nothing had happened.
The audience continued to roar. Jim Ryan, who was playing President Clinton ad-libbed brilliantly and the show went on. But the New York Post's "Page 6″ reported, "WOR's Shelly Strickler swears she was wearing underwear when she portrayed Hillary Clinton."
IC Members in Vanguard of Reporters
Covering Cardinal Dolan's Elevation
Several Inner Circle members had the unique experience of heading to Rome when  New York Archbishop Timothy Dolan was elevated to cardinal.   WPIX-TV's Mary Murphy, WCBS-880′s Rich Lamb, and 1010 WINS' Juliet Papa covered the story in the majestic St. Peter's Basilica and various parts of the Eternal City as Dolan received his red hat, the symbol of becoming a cardinal,from Pope Benedict XVI..   Our Inner Circle members were among the elite group of New York reporters sent on this exciting assignment in February. But they were back in time to participate in this year's Inner Circle performance.
IC Member Dick Zander Dead at 82
Richard Reynolds Zander, a reporter and columnist at Newsday for many years and 1984 president of the Inner Circle, died at his retirement home in Florida on March 9, 2012.  Dick spent 34 years with Newsday at the paper's Washington, D.C. bureau, as New York State political editor, and as a popular columnist.  He was the child of two reporters: his mother. Ruth Reynolds, was a crime writer for the New York Daily News, and his father, Harry Zander, was a newspaperman in Chicago and New York.
IC member Bob Wiener offered this anecdote about Dick that is appropriate for the Inner Circle:  "My memory of him is a bit bizarre. I used to produce a weekly public affairs show at Ch 7 with Milton Lewis. We  used to invite newspaper people to be on the panel, and Milton used to tell me to invite  Zander frequently the year Zander was IC president, hoping that he (Milton) would get a good part. Of course, it never worked."
Dick served in the U.S. Marines in the early 1950s, and attended Otterbein College in Ohio. Besides his membership in the Inner Circle, he also belonged to the Legislative Correspondents  Association (LCA) in Albany. After leaving Newsday in 1990, Dick became the public information officer for the New York State Court of Appeals until 1997.
His leaves his wife, Amy (nee) Horowitz, two daughters and two grandchildren.
Hank Walter Winds Up 55 Year Run on Inner Circle Stage
Our great tenor, Henry "Hank" Walter wrote this moving letter to all of us about his needing to skip being a part of the 2012 Show.  Hank became a member in 1956, president in 1963, and never missed a curtain in all those years. What Hank did not mention here is that despite not being on stage, he will be in our minds.  
Dear Friends,
Reluctantly, so reluctantly, I have to tell you, dear friends, that I am unable to sing with you in this year's Show, the first I will have missed.  But I do so very much want to come to rehearsals in midtown (and maybe even a few at City Hall) on evenings when my body feels up to making the long haul from here to there.
Anyway, on evenings when I can get to rehearsals, if you think there is anything I can do to help the production while sitting down, I would be overjoyed to contribute whatever I can.
I love the Inner Circle and its members (I always have over all these years).  The annual show has been the best and most appreciated perk I have enjoyed as an active "newsman" and former "newsperson".  And I've always felt privileged to be a member of the Inner Circle family, whose main purposes are to poke fun at politicians and government officials and to provide funds to each member's local charity.
Thank you for reading this far (my former concise, short, plain, simple, non-World Telegram and Sun, non-Beame style of writing was permanently destroyed by my 12 years of writing for Comptroller Jay Goldin).  I do want to remain as an active member, but at this stage in my life, I'm not sure how much I can contribute.  But if the Executive Committee needs something done that I can do to contribute, tell me.
Thank you!
I love you all.  And God love you all.  Hank.
Mulligan Gets Top Billing at Firemens' Home
Here's an update on our own John Mulligan from Chris Olert.  Thanks for keeping us up-to-date, Chris.
Dear Culture Lovers,
 I've talked to John Mulligan, who will be leaving the Whitney Houston Apothecary on Friday, 2 March.
His mind remains clear as today's sky.
He's moving to the Firemen's Home in Hudson, N.Y.; he has a ride to his new quarters courtesy of the Firemens' Home.  http://www.firemenshome.com/
John says he can hardly wait to be sleeping in quarters, again, with a copper pole in the middle of the room. (I told him to get a room in a strip club.)
But seriously, for Inner Circle 2012: He wants to play Amindinajad… He says once he's played Hussein, Quadafi and other axles of evil - the bad dudes die.
 John is eager to work alongside Mara at this year's show, recycling jokes from other Evildoers.
 Once he goes to Firemen's Home, he expects to get better physical therapy.
John's room cannot be dialed directly, but you can reach him by dialing the home's switchboard at (518) 828-7695 or toll-free at (800) 479-7695 and asking for him.  He is eager to talk to Inner Circle members, and is looking forward to attending this year's show.
 Your faithful reporter,
 Doug "Drop The Baby" Kennedy
Veteran Reporter and IC Member Vic Miles Dies at 70
Vic Miles, a smart, experienced reporter on WCBS-TV for many years as well as a member of the Inner Circle, died Oct. 12, 2011 at Mount Sinai Hospital in New York.  He was 70 years old.Colleagues and friends used repeated phrases like "steady" and "solid"  and "unpretentious" to describe both his work and his character.  He was a mainstay reporter and anchor at Channel 2 from 1971 until he retired in 1995, a length of time few in television journalism can sustain, least of all in the nation's number one market.John Slattery worked alongside Miles for many of those years. "Vic was a consummate professional, anchoring the weekend news broadcasts, and giving viewers an 'up close' view of the city he loved through his Our Block features, which won many awards," Slattery said. "But mostly, Vic won the hearts of those who knew him by offering friendship and sound advice. God bless my old buddy, Vic."Years ago, as he accepted an award for reporting from the New York Press Club, Miles told the audience the award meant more to him than others, including Emmys, because it was given by those who knew the most about reporting in New York.He passed muster to become a member of the Inner Circle in the fall of 1977, and appeared in his first show in 1978.  Miles brought the house down in 1984, singing and dancing as Michael Jackson.Victor Miles Levy  is survived by his wife, Karen Levy, three children and two step-children.  Memorial services have yet to be announced.
INNER CIRCLE MOURNS LOSS OF SHEILA O'MARA-OLERT
We all join in expressing our sadness and support for Chris Olert over the passing of his wife, Sheila, on June 3, 2011.  Sheila O'Mara-Olert succumbed after a long illness.  Services were held in their hometown of Warwick, N.Y.
******************************************************************
Marvin Smilon Dies at 81
Marvin Smilon joined the Inner Circle in 1967.
Marvin Smilon, reporter, public information officer and Inner Circle member, died May 23, 2011.
He was 81 years old and is survived by his wife, Natalie, and family.  He became a member of the Inner Circle in 1967 and remained a loyal supporter thereafter.
Smilon was a reporter for the New York Post for 35 years.  He won numerous awards for investigative reporting.  In 1994, he became the public information officer for the Office of the United States Attorney for the Southern District in New York.  Throughout his career, he covered stories ranging from the Pentagon Papers lawsuit, the Pizza Connection heroin case, the criminal prosecution of Michael Milken as well as cases of political corruption, international terrorism and celebrities in court.
One story that stood out was the sensational "Career Girl Murders" in 1963.  On the same day that the Rev. Dr. Martin Luther King Jr. made his famous "I Have A Dream" speech in Washington, D.C., two young women were found brutally murdered in their Upper East Side apartment.  It was a front page story for more than a year that frightened New Yorkers and embarrassed City Hall and the NYPD.
But let Smilon tell you in his own words.  Here's a link to a reminiscence  he wrote some years later, including the startling outcome of the case.
Smilon's closing paragraph was:  "I learned two things about this case - that conventional wisdom can too easily turn into a trap and the importance of editors with the backbone to stand up for their reporters."
The Inner Circle is making a contribution in Smilon's memory. President Mark Lieberman wrote Natalie Smilon:
"On learning of his death, member comments were universal and consistent recalling him as a wise, gentle man, generous with his knowledge and time and always willing - and anxious - to help other reporters."
2011 Was A Very Good Year!
Our members always remember each show and the year around it.  But this year some members wantedto share their special thoughts with one another.
Lynne White started it off:  I just wanted to say to each one of you, thank you.  This time of year, every year, can be overwhelming.  Some of us have been together in one form or another for decades.  We have lived through new life, death, divorce, marriage, unemployment, underemployment, happiness, sadness, pain and growth.  Somehow every year we live to enjoy another show, another catch up time, another feeling of being a part of this special and beautiful extended family. Welcome to all the new members who helped make this show such a success and thank you to all the veterans who rally us all to do our best.
How lucky we are, my friends. You rock! God Bless.
Hank Walter picked it up from there:
Amen to everything you said, Lynne!  You are so amazingly young to have the same feelings about the Inner Circle as I have.  At my age, for me especially, the Inner CIrcle is my one remaining link with the past, the present, and (I hope) the future. I love you all, individually and as a New York institution.  And I feel prevleged to have been a part of the 2011 show, another opening, one more show. And maybe two years more.
As I grow feebler and watch life's parade passing by, I must thank so many of you for all the kindnesses you have shown me in recent years andthe assists and saves you've made in my fumbles.
Thanks, Lynne, for inspiring me to express my feelings about our Inner CIrcle family. You're so on target!
Shelly Strickler added her thoughts:
We have pulled it off again, and I am left with a very special feeling about this organization we call the Innre Circle.
We put on a show, a terrific show, that's true. But it's more than that.  We support each other, both in journalistic endeavors and in our personal lives. We are like a family.  Families have disagreements, highs and lows, but in the end there are bonds that are enduring.  And, we make friends for life.
Sometimes I ask myself why I give up so much time and effort to do this show and I am sure many of you ask yourselves the same question.  When it's all over and we are more than successful year after year, I know the answer and can't wait to do it all over again (well, maybe wait a bit).
And to think we get a chance not only to get on a stage and show what we can do (and feed our egos) but to support dozens of charities.
I wish all of you a wonderful spring and summer.  See you at our October dinner. (Unless I see you before.)
*********************************************************
2011 New Members
Courtney Gross joined Gotham Gazette as city government editor in 2007 and has focused her reporting on the City Council. Prior to the Gazette, she covered municipal government in central New Jersey for the Princeton Packet.
She studied journalism and political communication at Emerson College.  A native of New Jersey, she lives in Brooklyn.
_________________________________________
Dick Brennan is the host of Fox Five's Good Day Wake Up and is the WNYW chief political correspondent.
Before that he worked as a reporter at Channel 9 in New York. He also was producer of Newschannel Four at Eleven at WNBC prior to that.
Brennan grew up in Queens, attended Archbishop Molloy HS, then Fordham University in the Bronx.
_____________________________________________
Kathleen Horan is a reporter for WNYC Radio.
She's been at the station since 2001.
In addition general assignment reporting, Horan also covers taxis, Coney Island, the elderly, labor issues and the occasional obituary. She has also hosted live events in the station's street level venue, the Greene Space.
In additional to local reporting (for which she's won several awards) her work has also aired nationally and internationally on NPR, PRI, and the BBC.
Her book Relationship Obits: The Final Resting Place for Love Gone Wrong, was released in 2009.
———————————————————-
Azi Paybarah is a political reporter for the New York Observer. He started at the weekly paper in 2006, and recently rejoined their staff after covering the 2010 election cycle for WNYC public radio.
Paybarah is a native of Queens, studied in Albany, and currently lives somewhere in Brooklyn where he manages to run into just as many reporters as he does on the steps of City Hall.
—————————————-
Jill Colvin is a reporter covering City Hall and Midtown
for DNAinfo, a new local Manhattan news website. Before
joining DNA, she reported for the Daily News and Canada's largest national newspaper, the Globe and Mail.
Jill graduated from the Columbia Graduate School of Journalism in 2009, and before that interned at the London bureau of the Washington Post. Her work has appeared in publications including the New York Times and New York Press.
 ********************************************
Alpine Adventure Lands Cole on D-L
IC member Kirstin Cole was starting another run down the icy slope of Mt. Blanc between France and Italy when she had a slow-speed fall. Her left knee collapsed and the blue ice and glacial boulders around her turned to white hot pain in her mind.
Refusing a medivac, she skied another 10 kilometers down Europe's highest peak
(15,792 ft) before receiving full medical attention. Now, three weeks later, Kirstin's at home recuperating from surgery for a severed ACL and torn meniscus, with grade 2 tears to the MCL and LCL.  And that means she will be tied up in a brace for several more weeks.
Despite it all, she hopes to join us for the March 25-26 performances although not as a member of the chorus or in any dance routine.
"I'll be able to walk - slowly - and drive in a few weeks and I hope to make rehearsals then, "she said.  We wish her a speedy recovery and will keep a spot warm.